IndyCar Spring Training
INDYCAR SPRING TRAINING | FEBRUARY 12, 2019
Every season has a beginning. This is ours. INDYCAR and COTA are opening the paddock and inviting you to a full day of testing featuring every team on the 2019 grid! Admission is free for IndyCar Classic ticket holders, and standalone tickets are available for $20.
Don't miss the inaugural IndyCar Classic, revving up Austin March 22-24.
Tickets
Map
FAQ
All IndyCar Classic ticketholders receive free access to Spring Training in February.
Once you've got your IndyCar Classic tickets (or if you've already purchased them)...
Only interested in coming out for testing?
Complimentary parking is available in Lot A.
Kids 12 and under receive complimentary admission.
CIRCUIT MAP
Please note: for this event, only the Main Grandstand, Turn 1 Grandstand, and the paddock will be open to spectators. You're also free to make use of our General Admission areas in Turn 1 and the Esses through Turn 5. We apologize for the inconvenience and appreciate your understanding as we get the Circuit race-ready for Spring.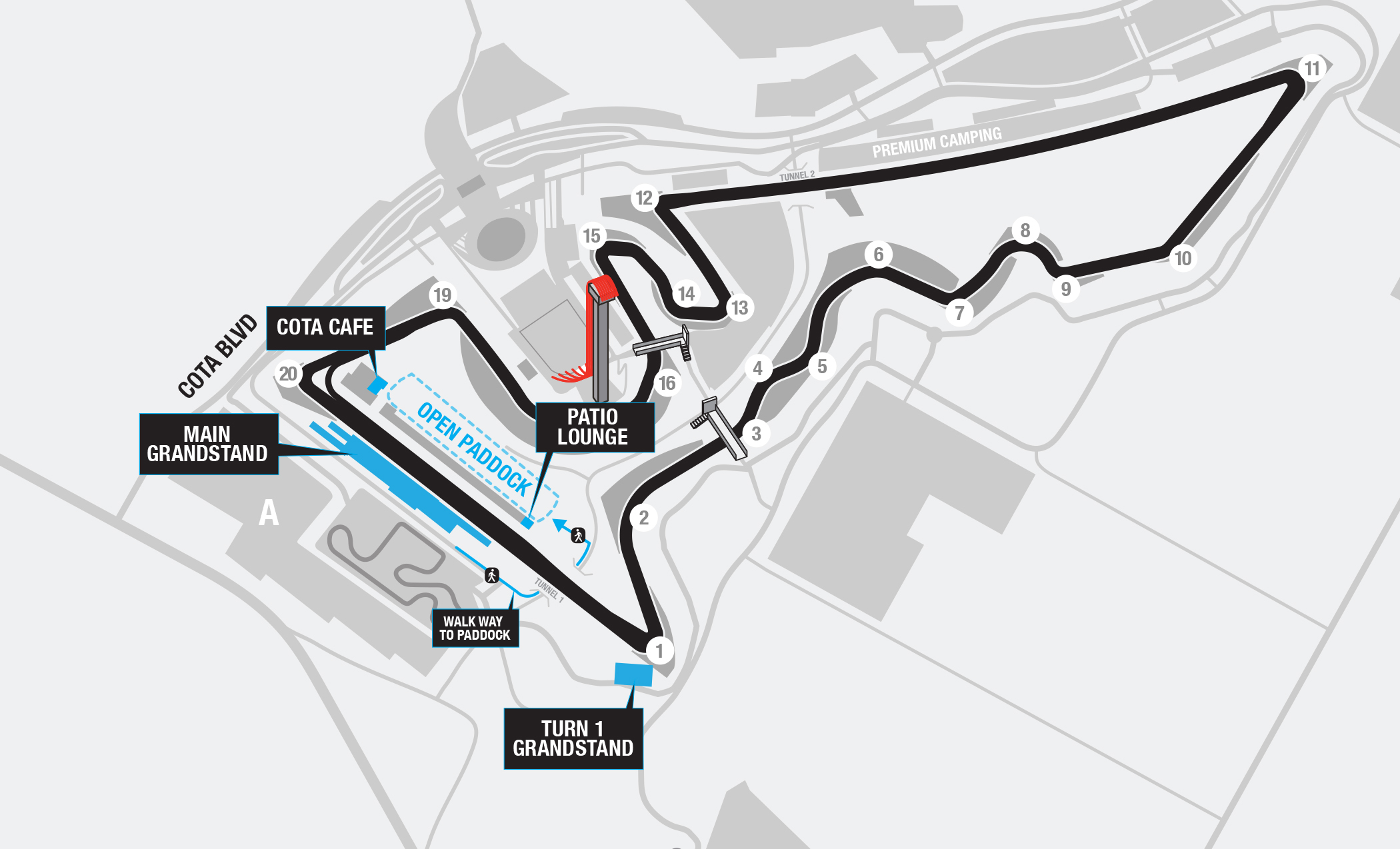 FREQUENTLY ASKED QUESTIONS
WHERE DO I GET TICKETS?
All holders of a ticket for this March's IndyCar Classic will receive complimentary tickets to IndyCar Spring Training. If you don't have an IndyCar Classic ticket yet, you can purchase individual admission to Spring Training here for $20.
IS THERE AN EVENT SCHEDULE?
Gates will open at 9AM and close at 5PM.

WHICH INDYCAR TEAMS ARE PARTICIPATING?
All of them. That's right. Every single one.
WHERE DO I PARK?
Parking is free in Lot A.
WHICH AREAS OF THE CIRCUIT ARE OPEN?
All guests receive access to the Main Grandstand, Turn 1 Grandstand, the paddock, and the Paddock Lounge. You're also welcome to explore our General Admission areas throughout the first sector.
CAN I WATCH FROM THE GRAND PLAZA OR TURN 15?
Due to construction, the Grand Plaza and Turn 15 Grandstand will be closed to the public during IndyCar Spring Training. It'll be back up and running in time for the IndyCar Classic a month later.
WILL THE OBSERVATION TOWER BE OPEN FOR SPECTATORS?
Yes! Tower Tour tickets are available at the base of the Tower, $15 for adults, $10 for children. We've got a shuttle that will transport you there from the paddock in style.
HOW ABOUT COTA KARTING AND THE ZIP LINE?
Those are open too! All you thrill seekers will have the chance to race on our state-of-the-art karting track or soar high above the main straight on our brand new zip line. Learn more about both here.
ARE FOOD AND BEVERAGES AVAILABLE?
You bet. A variety of concession options and the Velocity Lounge will be available in the Main Grandstand. If you work up a hunger while visiting the paddock, you'll be able visit the Paddock Café, Paddock Lounge, or a food truck.
I REQUIRE ADA ASSISTANCE. ARE THE FOLKS AT COTA ABLE TO HELP?
Absolutely. Review the COTA ADA policy at this link, including instructions for purchasing ADA accessible tickets through Ticketmaster.
For questions before the event weekend, the COTA Guest Services team overseeing ADA operations can be contacted at ada@thecircuit.com or by phone at 512-301-6600, extension 0.
For assistance during the event weekend, please alert a nearby staff member, visit an orange Guest Services tent, or text "COTA" to 69050 followed by the message.
I'VE STILL GOT QUESTIONS. HOW CAN I GET IN TOUCH WITH COTA?
For ticket inquiries, give us a ring at 512-655-6300 or drop us a line at sales@thecircuit.com. For all other questions, give our main line a call at 512-301-6600.